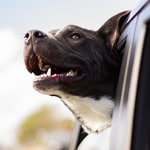 Here at Tapper Ford, we know our customers love their furry friends. We're often asked for questions about vehicle safety, and the topic of traveling with pets usually comes up. We have some tips to help ensure your next road trip with your pooch or kitty goes smoothly.
Practice taking short rides around Paw Paw, MI before the big trip. Feed them a small meal a few hours before you leave. You'll want to keep your pet restrained while riding. Both cats and dogs are safest when placed in a carrier in the backseat. The carrier should be anchored or attached with a seatbelt. Allowing a pet to roam loose could cause distractions for the driver.
Bring along a travel kit that includes medical records, food, water, medication, and bowls. Don't forget a scoop and bags for cleaning up after your pet. It's also smart to pack toys to keep your pet occupied during the ride.