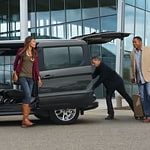 Overall comfort and convenience are a priority for Ford Motors. The new Ford Transit Connect is no exception to this. Convenience features are what makes this van a popular choice for business owners and individuals who are planning to haul a great deal of cargo.
The push-to-start button is standard equipment on the Ford Transit Connect van. Your key fob will be recognized by the Transit Connect even if it's in your pocket or purse. All you have to do is press the Ford Power button to start the engine. This function is standard on the Sport, Limited, and Active trim levels.
In addition, the Ford Transit Connect has a lot of storage space in the interior. Passengers and drivers can access storage space above their seats. The inside of the Transit Connect is well-organized and efficient, making the cabin a pleasant place to be.