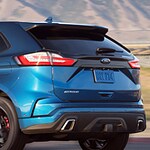 At Tapper Ford, we know how important it is to get the maximum performance from a family vehicle. That's why we offer the Ford Edge, a popular midsize SUV that has many design features adventurous families will love.
This SUV comes with a 180-degree camera system that allows you to see more areas around the vehicle. That means less risk of a collision when backing up or dealing with blind spots. The Ford Performance suspension on the Edge is ready to handle tough terrain, and there is plenty of horsepower and torque for pulling those adventure toys. For style and performance, this SUV stands out in its class.
We want to extend an invitation to you and your family to visit us in Paw Paw. You can either call or come by, and we will be happy to schedule a test drive for you at your convenience. Come and see the Ford Edge for yourself.