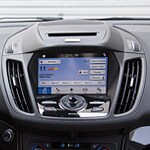 The new Ford Escape is a popular compact SUV that offers you all of the convenience features that you look for in a reliable vehicle today. It is well-suited for both a family car or driving for work. Discover its innovative convenience features that make it a worthwhile investment.
One of its most impressive features is its hands-off liftgate. You no longer have to fumble with the keys to unlock the back gate of your vehicle. You can now simply touch the gate under the handle to activate its automatic lift feature.
Also park easily and conveniently thanks to the Escape's rear park assist feature. You can easily see what is behind and beside you while you are parking. You avoid hitting objects and pedestrians. You also know how much space you have to fit into so that you can easily back into the spot and pull out of it later.