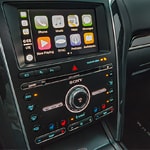 A vehicle's performance is one of the things that you will need to take into consideration. If a vehicle has performance features, then it will be a lot easier for you to drive and avoid an accident. The Ford Explorer has a variety of performance features that you can try out, including post-collision braking.
If you get into an accident, then post-collision braking can help you avoid another one. It will automatically apply pressure when an accident has been detected. It will help protect you and your occupants.
This vehicle also has available reverse brake assist. It will give you a visual and audio warning. It will be able to see the objects that you may not be able to. It can detect both moving and stationary objects. Available reverse brake assist will also apply the brakes. Check out the performance features when you test drive the vehicle at our Ford dealership.